Episode 88
What you'll learn in this episode:
Why Taxco became a hotbed for silver design and innovation.

How the Mexican Silver Renaissance began, and what factors influenced it.

How William Spratling's silver jewelry designs made their way around the world.

Which Taxco silver artists you should be following today.
About Penny Morrill:
Dr. Penny Morrill has developed a history of modern Mexican silver, using primary sources. She participated in establishing the Sutherland Taxco Collection at Tulane University's Latin American Library and has assisted in the development of modern Mexican silver collections at the Los Angeles County of Museum of Art and at the Museum of Fine Arts Boston. Morrill's books include Mexican Silver, Silver Masters of Mexico, the exhibit catalog Mastros de Plata, and Margot Van Voorhies. She remains committed to supporting contemporary Mexican silver designs. Morrill's other passion, colonial Mesoamerican art, is revealed in her monograph on a sixteenth century urban palace in Puebla, Mexico, The Casa Del Deán.
Additional Resources: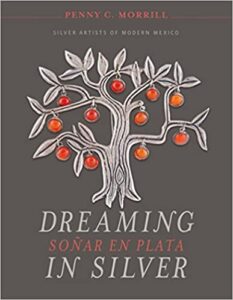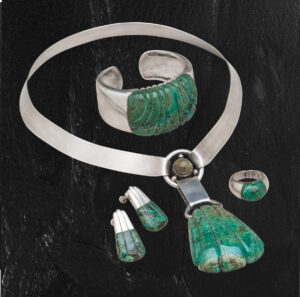 William Spratling. Carved green stone shell necklace, cuff bracelet, earrings, and ring. c. 1940-44. earl Zubkoff, photographer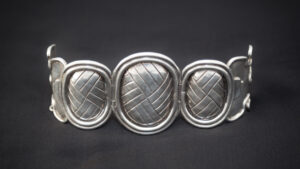 William Spratling.Stela 1 cuff bracelet. c. 1940. John McCloskey, photographer.
Photographer: John McCloskey.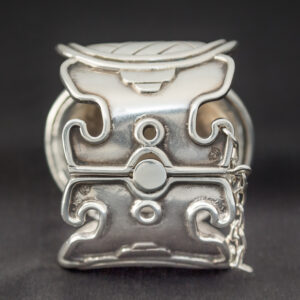 (Second view)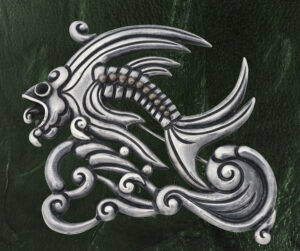 Los Castillo (Margot Van Voorhies). Surrealist Fish. c. 1940-44.  Luisa DiPietro, photographer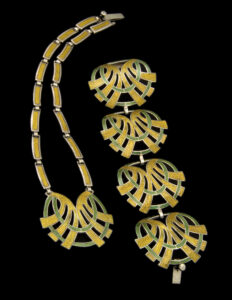 Margot de Taxco. Encircled Lines. Necklace and bracelet #5652. Enamel on silver. c. 1955. Luisa DiPietro, photographer